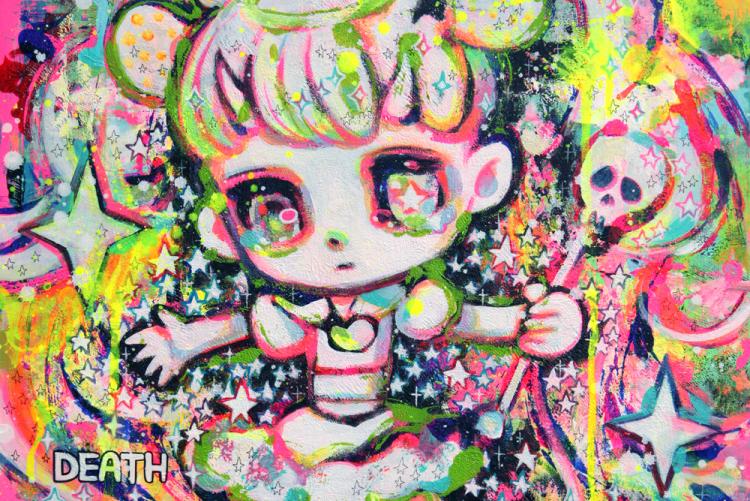 Hikari has a new painting in Heart's Blood, a new group show opening tonight at Haven Gallery in New York curated by Beautiful Bizarre. Heart's Blood is inspired by the Oscar Wilde fairytale, 'The Nightingale & the Rose' and features new works by Amy Sol, Caia Koopman, Camilla d'Errico, Chie Yoshii, Eliabeth McGrath, Erika Sanada, Jasmine Becket-Griffith, Lori Nelson, Miho Hirano, Richard J Oliver, Scott Radke, and many more! You can see the entire roster at the show's Facebook event here!
Our God's Birthday
Acrylic and glitter on canvas
20.9" x 16"
For previews and purchase inquiries, please contact the gallery at [email protected].
'The Nightingale and the Rose' is a romantic and deeply moving story of love and sacrifice. About her painting, Hikari shares: "God was created by human beings to save themselves. This image portrays the day of God's birthday. God was born and raised by people's wishes and love and his role is to save people. Instead of rescuing people from the hardships of this world, he is destined to end up alone and the human race will perish. But who will save the god when he is alone?"
Hikari is currently featured in the new issue of Beautiful Bizarre Magazine, on stands now and available to download! Her feature includes an interview about her latest body of work and a beautiful multi-page spread of full-color images. You can pickup a copy at their website here!
Heart's Blood will be on view September 16th through October 15th, 2017 at:
155 Main St., Suite 4
Carriage House Square
Northport, NY 11768
*Located behind Rockin' Fish restaurant, next to Ameriprise.
Tel: (631) 757-0500
Hours: Wednesday-Sunday, 12pm-7pm