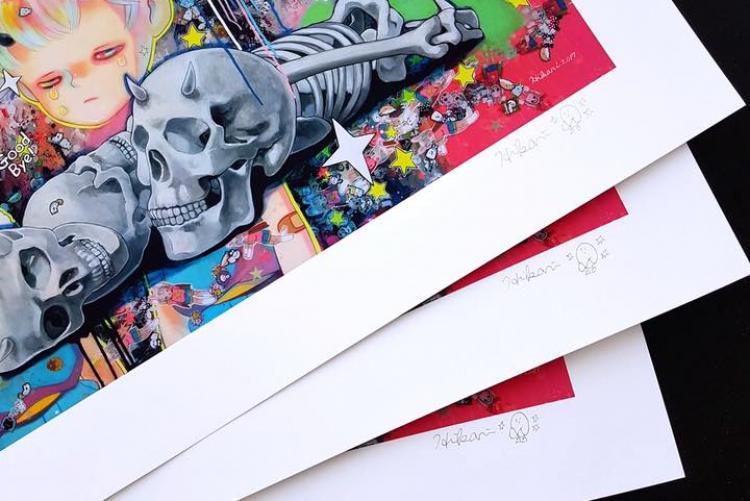 Eyes on Walls are set to drop an exclusive, limited edition print of Hikari's painting "Neo Raigou-zu" this Friday! The original painting has been faithfully reproduced as a beautiful giclee limited edition of 50, signed and numbered with a certificate of authenticity.
Edition of 50
19" x 24" image size, 22" x 28" paper size
Giclee on Bright White Acid Free 230gsm Premium Matte paper
Signed and numbered, embossed, with Certificate of Authenticity
$150
The print will be available to purchase on Eyes on Wall's website at 1:00pm EST this Friday, August 10th, and shipped worldwide. Check out these pics of Hikari signing the prints!
In Buddhism, a raigo (meaning "welcoming approach") is an appearance of Amida Buddha on a purple cloud at the time of one's death. In Hikari's version, a magical girl (who represents the "new god of our era" in her artwork) takes the position of Buddha and a rock band follows her. They are what she calls the "raigou-zu of the modern era".
Be sure to keep up-to-date with all of Hikari's projects by following her on Instagram, Facebook, and Twitter.