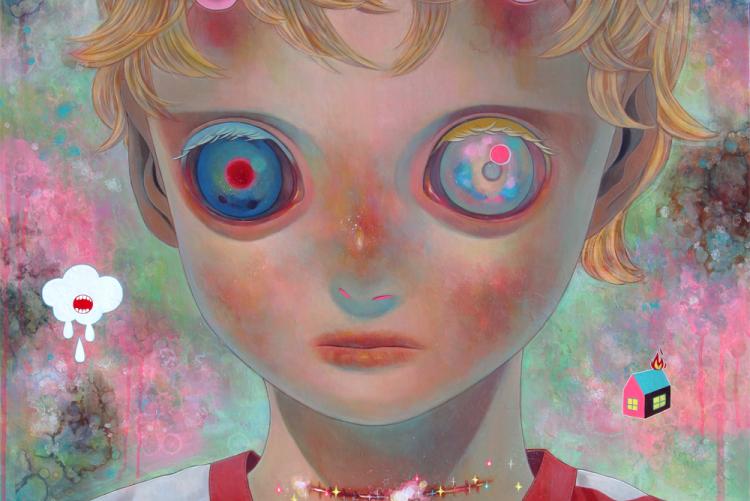 We are very happy to share Hikari Shimoda's latest body of work for her third major solo entitled, "Memento Mori" at Corey Helford Gallery in Los Angeles, opening this Saturday, January 21st.
Hikiar's exhibition, coinciding with San Francisco based artist Michael Page's "Nostalgia Kills", will feature twenty new oil and mixed media paintings. There's a great interview with Hikari at WOW x WOW blog that talks about the inspiration behind her show, which will also debut new series: "Whereabouts of God – Nobody", "Our God", "I Do Not Know My Enemy", "Manga", and "Death and Angel." Hikari shares:
"Death and relief are the main themes for this new body of work - To look at the present day, where there are many people who find it hard to even live and find hope, to feel as though death is inching closer to us in the world, without looking away. Using the Buddhist Kannon as my inspiration, I wanted to express our unique practice of creating 'saviors' in religion with my own contemporary deities. My paintings tell the story of the destruction of the human race, while also focusing on these contradictions between death and hope in modern times.
I imagine the modern world as a netherworld about to burst with its many problems, and humanity is struggling to cope with its imminent demise. I depict god-like characters who offer us relief. As human beings, we attack each other, make enemies, and so I surround them with angels of death. Also, there are children of various races in my new paintings. I wanted to draw upon a theme that was not specific to any race or country, but a theme that relates to the whole world."
For previews, pricing and purchase of the paintings, please contact: Corey Helford Gallery, [email protected]. For any press, interview or other questions, please contact us at [email protected].
"Memento Mori" will be on view January 21st through February 18th, 2017 at:
Corey Helford Gallery
571 S Anderson St (Enter on Willow St)
Los Angeles, CA 90033
Tel: (310) 287-2340
Hours: Tuesday-Saturday: noon to 6pm