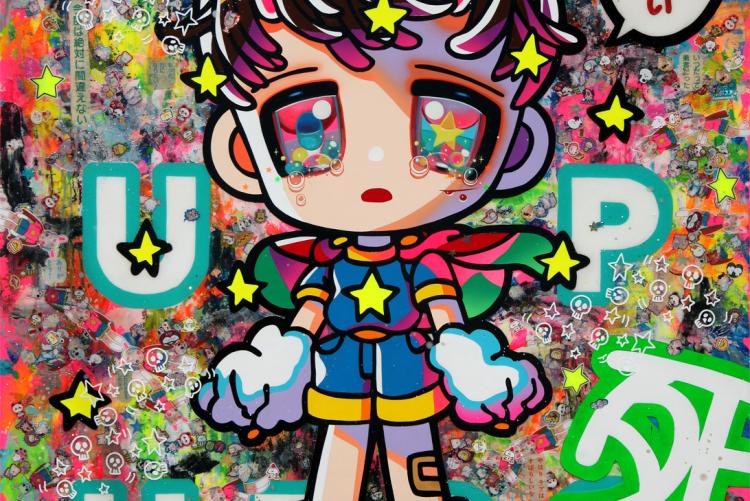 Just in time for the holidays! Eyes on Walls will drop a time limited edition print of Hikari's painting "Stand Up, Hero" this Friday! The original painting has been faithfully reproduced as a beautiful giclee limited edition, signed and numbered with a certificate of authenticity.
"Stand Up, Hero" Time Limited Edition
20" x 25" (28" x 33" framed)
Giclee on Bright White Acid Free 230gsm Premium Matte paper
Signed and numbered, embossed, with Certificate of Authenticity
$175 ($275 framed)
The print will be available to purchase on Eyes on Wall's website at 12:00pm EST Friday, November 22nd until 11:59pm EST on Monday, November 25th 2019. Timed releases run for a limited time, and when the time runs out, orders are closed and the edition is set to the number of prints ordered.
Check out some detail images of the print below!
About the original painting (which is sold out) Hikari shares, "The characters in my work may appear injured or even melancholy, but they are strong because they don't stop moving forward. The heroes in my works are "saviors", inspired by characters like Sailor Moon and Superman, known as liberators or protectors by people around the world."
"This is like his battle cry to "stand up" and face our problems in the world. There are collages of word balloons (here it says: "I'm weaker, you're stronger."') quoted from manga comics and filled with multiple languages and meanings, showing the complexity of the world."
Happy holiday shopping and thanks to everyone for the suppirt this year!
Be sure to keep up-to-date with all of Hikari's projects by following her on Instagram, Facebook, and Twitter.