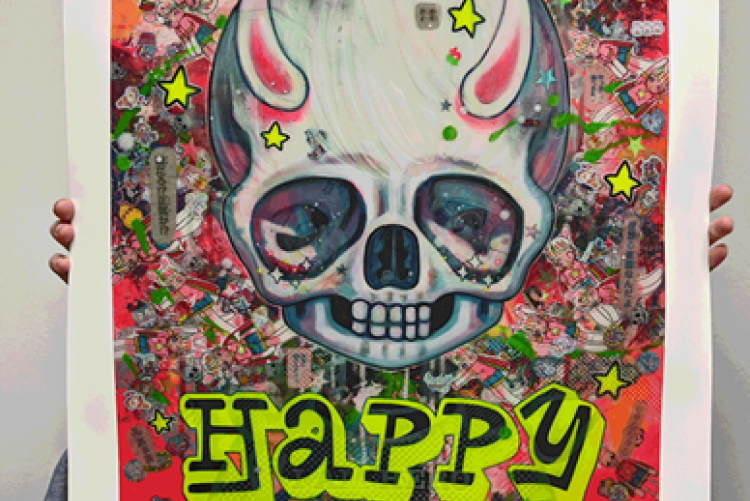 Available this Friday from Eyes on Walls!
"Affirmation of Emotions (Happy)" is a very special signed and numbered limited edition giclée print. Eyes on Walls has taken one of Hikari Shimoda's Glow in the Dark original paintings and created a limited edition print! This is a MUST HAVE for all collectors!
"Affirmation of Emotions (Happy)" Limited Edition
Edition of 200 pieces
19 x 22" inches on Fine Art Paper
Bright White Acid Free 230 gsm Premium Matte paper
Signed and numbered, with Certificate of Authenticity
$275
On her inspiration, Hikari shares: "I often hear that you should live positively. However, people have different emotions, which are multifaceted and not necessarily positive. I ask myself, 'if negativity and suffering are so evil, should they not exist?' I think that understanding and dialogue are born from affirming all emotions existing inside of a person. This series presents seemingly negative motifs of emotional words and skulls. However, when it gets dark and the lights go out, the figure of the hero and the word "yes" appear. All emotions, life and death, are a part of human beings."
Check out more photos of the print below!
The print will be available to purchase on Eyes on Wall's website at 12:00pm EST this Friday, November 20th. Prints are limited to just ONE per customer! Don't miss it!