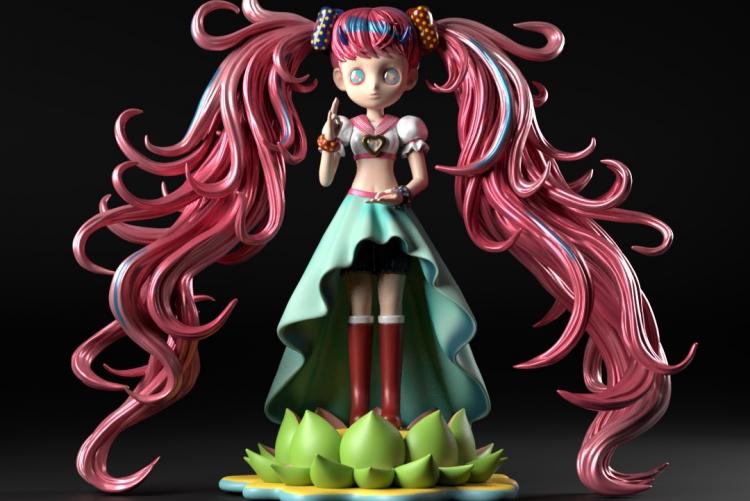 This week at the ART021 Shanghai Contemporary Art Fair, Apportfolio will debut Hikari Shimoda's latest "lifesize" sculpture, Amitābha, aka "Amichan", her beloved magical girl character inspired by the Buddha of the same name. On view at ART021 booth # E1-31 is a beautiful hand-spray painted first edition measuring 160cm or 5'ft2" high.
Apportfolio will roll out 19 unique color combinations of the sculpture, all of which will be available to purchase online at Apportfolio on November 11th, 2022 at 6:00pm.
Unique "Amitābha" Lifesize Sculpture by Hikari Shimoda
Edition of 20
Material: FRP (Fibre-reinforced plastic)
Size: 160 (h) x 189 (w) x 87cm (d)
Each piece comes with a signed COA.
Available exclusively at Apportfolio.
Hikari shares: "Amichan welcomes the spirits of the dead to the heaven. In my raigou-zu, a magical girl (who represents "new god of our eras" in my paintings) takes the position of Buddha, and a rock band follows her. Those are raigou-zu of modern era." She often dresses her characters in heroic costumes resembling magical girls, an anime sub-genre of young girls who use magic, revealing problems and struggles in contemporary society through a juxtaposition of brushwork, text, and collage.
Check out more photos of the sculpture below!
ART021 Shanghai Contemporary Art Fair will take place
November 10th through 13th, 2022 at:
Shanghai Exhibition Center, booth # E1-31
N.1000 Middle Yanan Road